In 1898 Clark memorials was founded by C. J. Clark in Americus, Georgia. He and his two sons, Egbert and Russell, managed the company until 1930. One of the company's early projects was to construct 9 of the 12 Civil War memorials in Andersonville National Cemetery. This was quite a feat as only mules, wagons and limited mechanical equipment were used in the construction of this very large project.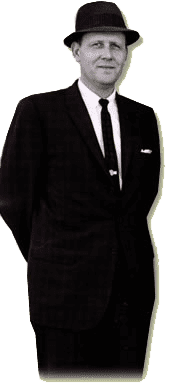 Charles Joyner expanded Clark Memorials into Alabama in 1947
Hamilton Holt married Melva Clark and soon became president of the company in the mid 1930's. Hamilton Holt expanded operations into Macon, Georgia where he built a sales force that expanded throughout the state. A new home office and manufacturing plant were soon completed and Macon became the distribution center for the state of Georgia.
In 1932 Haywood Ellis, an architect and designer, joined the team of Clark Memorials and soon became one of the leading designers in the United States. His lasting works of art can be seen through the Southeast today. In 1971 and 1972 Haywood Ellis was elected president of The American Institute Of Commemorative Art (AICA). This association is one of the finest groups of memorial designers and craftsmen throughout the United States and Canada who are devoted to the highest standards of commemorative memorial design and business ethics in the monument industry.
Charles Joyner joined Clark in 1943 as a sales representative for central Georgia. It wasn't long until Clark Memorials expanded into the state of Alabama under the leadership of Mr. Joyner. In a joint partnership, Charles Joyner and Hamilton Holt established Clark Memorials of Alabama in the city of Birmingham in 1947.
In 1959 Hamilton Holt semi-retired due to failing health. He continued as chairman of the Board, with Charles Joyner as Vice President in charge of all company operations, including 3 granite quarries: Star granite manufacturing plant in Elberton, Ga.,Clark of Georgia, Clark of Alabama and affiliated companies.
In 1963 Hamilton Holt died and Charles Joyner Became president and CEO of Clark Memorials of Alabama. In 1974 long time designer Haywood Ellis died. Fortunately, Ted Reinert, an outstanding designer from Barre, Vermont joined the company in 1972. He continued the tradition of outstanding design and art until his death in 1987.
Charles Joyner became one the industries outstanding memorial leaders. He was president of The American Institute of Commemorative Art, speaker and member of Monument Builders of North America.
Today the President of Clark Memorials is Pierre Tourney, Sr. He has been with Clark Memorials since 1964. He is married to Holly Joyner, the daughter of Charles Joyner. He is active in further developing the company. He is a member of the Monument builders of North America and past president of the American Institute of Commemorative Art (2005-2006), and 12 years on the board of directors. His oldest son, Charles Tourney, is Vice President in charge of Birmingham operations and sales. Pierre Tourney, Jr. is CFO and holds the position of North Alabama Development manager.
Today, Clark Memorials is considered one of the elite memorial companies. Since 1898 Clark Memorials has been family owned and operated.
The Mission of Clark Memorials is to promote excellence in commemorative memorial art design through professional knowledge and understanding.